Shanghai was the first city in Asia to have electric street lamps, making it the most modern Asian city more than a century ago. It is also where we will begin to explore innovation hubs all over China, including Beijing, Hangzhou, Shenzhen, Nanjing, and Guangzhou, the top cities we recommend for startups and innovative technologies.
Shanghai Background
"Shanghai is the home of 701 multinational headquarters and 451 R&D centres," according to James Chou, CEO & Managing Director of Microsoft for Startups in Greater China Region, Japan & Korea, "we help Fortune 500 companies execute Open Innovation programs by connecting the enterprise's internal digital transformations needs with our portfolio startups." As the city with the highest concentration of foreign companies in China, many global companies have set their Chinese accelerators in Shanghai, including Honda Xcelerator, Shiseido's Beauty Innovation Hub, Fung Group's Explorium, Johnson & Johnson's JLabs, Medtronic's Mlab, and many more.
Historically, Shanghai had the geographical advantage of being accessible by sea, which made it home to the British Settlement and French Concessions in the 1800's. Now, it continues to be China's international hub with the Shanghai Port – the world's busiest container port by cargo capacity, and Shanghai Stock Exchange – the world's fourth largest by market capitalization.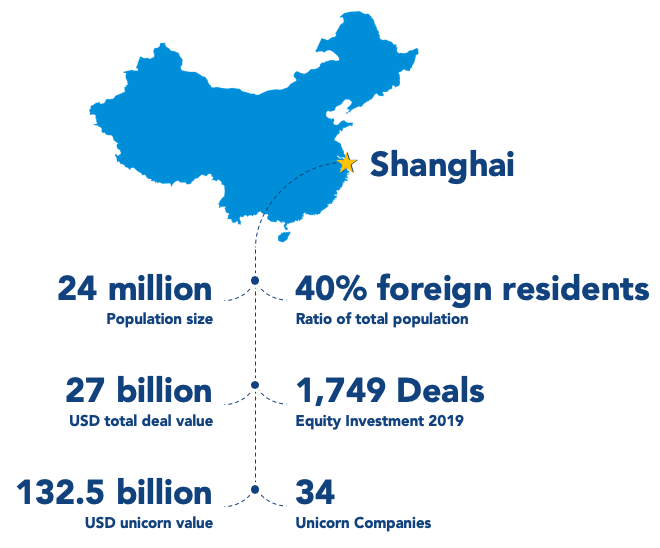 As a result of heritage and infrastructure, Shanghai's population make up is diverse and welcoming. Among its population of 24 million residents (nearly double of Tokyo or triple of London), forty-percent, or 9.6 million, are non-natives from all over China and overseas. It is also currently home to 300,000 Japanese residents
Shanghainese Startup Specialization
The endless trades and transactions that happen in Shanghai have made it a rich city. Rich not only in economic terms, but also international culture, global talent, and of course, innovation mindset.
In 2019, Shanghai's equity investment value totalled USD 27 billion from 1,749 deals. With an active investment ecosystem, Shanghai nurtured thirty-four unicorns, in other words, one in five Chinese unicorns are from Shanghai (second to Beijing, which I will cover in my next blog. Subscribe here.). Among the unicorns are United Imaging, a medical imaging company, and Little Red Book (Xiaohongshu), a socialized e-commerce platform to purchase cross-border goods, Lufax, an internet finance marketplace.
This broad spread of startups share common traits that stem from their origin. Due to the size of Chinese cities, most major cities will claim to be strong in every key startup sectors, especially those highlighted by the Made in China 2025. Taking financial technology, or Fintech, as an example, Shanghai, Beijing, Shenzhen, and Hangzhou will all have important startups in this space. The difference is the shaping of the startup's business models and products by the ecosystem. Shanghai is heavily influenced by the high concentration of multinational companies for international business-related fintech, Beijing by the central government and state-owned enterprises for domestic fintech, Shenzhen by its neighbouring Hong Kong trade centre and hardware IoT fintech, and Hangzhou by Alibaba's e-commerce fintech.
Relative to the rest of China, Shanghai's startups are more in touch with and welcoming of global market trends. Shanghai's numerous multinational headquarters not only bring in the latest technology and forward-looking concepts, but also attract the best global talent around to the city. Little Red Book leverages social recommendations of "must-buy" items when shopping overseas. Medical companies, like United Imaging, must stay on the leading edge of R&D.
Overall, a new company entering China or starting up would choose to be in Shanghai over other Chinese cities to access international talent and supply of global products, technologies, or services. It not only has the country's highest number of multinational companies, global research centres, and international schools, but also number of international tradeshows and exhibition halls. According to China Exhibition Association's most recent 2017 report, Shanghai hosted 767 exhibitions, more than double of Beijing's 365 shows. Notable exhibitions include: Consumer Electronics Show (CES), China International Import Expo (CIIE), Shanghai Fashion Week, Automechanika, China Medicinal Equipment Fair (CMEF), Mobile World Congress (MWC).
If you are looking for innovation or startups that closely follow global trends, including but not limited to healthcare, fintech, fashion, advertising technology, and clean energy sectors, Shanghai is a great place to start.
Innovation Strategy of Shanghai Based Companies
As a result of Shanghai's global connectedness, it is a condensed reflection of global competition and diverse approaches to innovation. I recommend connecting with innovation departments of large corporations as well as start-ups to get inspiration. Many were open to sharing their strategy and tactics.
Sanofi's China General Manager, Dr. Hornstein, opened the Sanofi Innovation Summit in Shanghai with a backdrop of logos including Blockbuster, Nokia, and Polaroid. He cautioned against technology disruption that is accelerating the demise of incumbents. As a pharmaceutical company, Sanofi's innovation focus is not centred around technology, but around the patient. With the patient as the anchoring point, Sanofi plans to contribute its experience and talent to foster technology adoption so that it survives the next two to three decades.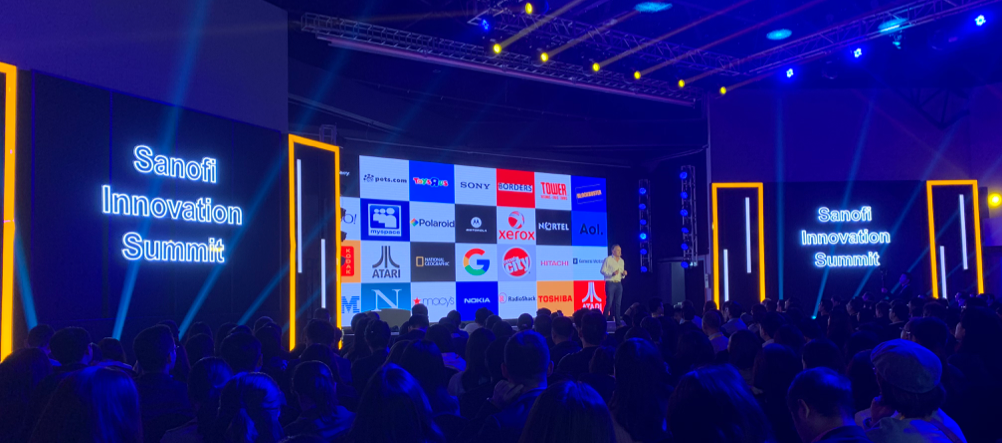 On the other end of the health spectrum, I learned about Budweiser beer's innovation focus on the venue of consumption instead of the customer. I spoke with Yuan Coffee, an innovation space inside Shanghai Jiaotong University (SJTU). Ms. Chen, its operations manager, said "Budweiser hosted a hackathon to find inspiration from Asia's KTV drinking culture. Seven teams created three market-ready games. One was a multiplayer game on a supersized tablet that uses beer bottlecaps as soccer balls." This quick and low-cost way to source innovation helps Budweiser stay relevant and engaged.
Innovation strategy does not have to be confined to a single focal point, but can also span the supply chain. Explorium, the innovation ecosystem platform of Fung Group, innovates vertically by leveraging its supply chain and retail strengths. Paul Wong, its Vice President of Innovation, explained its approach: "We built a space for trailblazing experiments. For example, our Retail Lab worked with an RFID startup to track customer behaviour and product movement. Their technology was installed and upgraded on weekdays, and data collected over weekends for the next iteration of retail store layout and inventory." As a result of this, Fung Group's supply chain customers were inspired to integrate novel technologies because benefits were tangible through live demonstrations.

How to Leverage Shanghai for Open Innovation
With easy access to talent, tools, and technology, as well as its open attitude to new concepts, Shanghai is an ideal ecosystem to search for and experiment with innovation.
If you plan to launch an accelerator or startup contest, I recommend putting Shanghai at the top of your list. However if you are not ready to start an accelerator or hackathon, Shanghai also has a wealth of flexible resources available to be tapped for quick iteration or validation. Intralink is working on several projects from ideation, to market test of early concepts and prototypes, as well as scouting for new technology to reinvent aging products, or create brand new types of solutions and business models.
Similar to Intralink, Coderbunker helps innovation by providing outsourced technology teams to test the waters. Frederic Bazin, its co-founder said: "Coderbunker's Resource-As-A-Service model, or RAAS, gives flexibility to change project directions without being tied to specific technology skillsets that are hired full-time. We have more than 30 nationalities that co-work here as resident software developers, hardware engineers, and designers. We can basically provide any talent you need to start a new technology project, build a prototype, and maintain it."
There are not many active Japanese corporates looking in Shanghai for innovation yet, so we recommend taking a serious look at Shanghai for your China Open Innovation program. If you want to learn more about China's innovation landscape or any of the Intralink Innovation Network partners mentioned, feel free to contact us.
About the Author
Emma Hsu is the Program Manager of Open Innovation Group at Intralink's Shanghai office. She was born in Taiwan, grew up in Canada, and has worked in China for the past 10 years. If you have any comments, questions, or suggestions, please email her: emma.hsu@intralinkgroup.com.
Intralink's Open Innovation Group is privileged work with NTT Data, NSSOL, Chubu Electric, Fujitsu, Hitachi, Mitsui Chemicals, and many more. For more information, visit: www.intralink.co.jp